HI-TRAC® Cycle Interactive Display
Communicate with cyclists and pedestrians with a customizable, dynamic outdoor information display.
Integrate with ease to HI-TRAC® CMU cycle and pedestrian monitoring equipment
Customize the single- or double-sided display with artwork, maps, city crest, or logo
Communicate via internal or external GSM/GPRS/2G/3G/4G for data download, diagnostics, and configuration
Overview
Increased traffic in cities as well as mandates to lower pollution levels are driving change in transportation policies. Active transportation has become the focus amongst traffic planners and politicians alike with both determined to promote cycling and walking as alternate modes of transport.
The HI-TRAC® Cycle Interactive Display (CID) allows cities and authorities to display dynamic information along dedicated paths. With excellent visibility in all weather conditions and auto-dimming functionality, authorities can:
Display daily, monthly, or annual statistics such as the number of cyclists or pedestrians
Communicate safety guidance and advisory information
Motivate residents to cycle, run, and/or walk more
Show appreciation to cyclists for their contribution to a better environment
Built to withstand a long outdoor life installed alongside cycle or walking paths, the durable and reliable outdoor information display is sealed to IP65 and, therefore, is protected against solid objects, dust, and rain. And it employs the latest low-power LED technology and utilizes solar power. It is compatible with the Q-Free HI-TRAC CMU cycle and pedestrian monitoring system.
The HI-TRAC Cycle Interactive Display is a plug-and-play system with minimal installation and set-up time, but it also provides some customizable features, such as:
Proximity sensor
Single or double-sided LED backlit display
Interactive LCD touchscreen for direct interaction
Custom artwork such as city crests, logos, maps, etc.
In conclusion, authorities can both motivate and communicate with their community while stimulating their sustainable transportation goals.
HI-TRAC® Cycle Interactive Display Examples
Below are examples of the installed outdoor information displays along dedicated paths: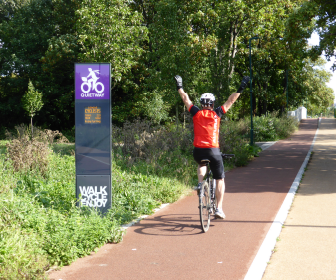 Product sheet
Product specifications may change at any time without notice and may not be available in all markets. Contact us for up-to-date information and availability.
Related products
Related product
Monitor cycle and pedestrian lanes.
Back office software analysis tool for vehicle counts and classifications.