News
United Arabic Emirates in online ALPR demo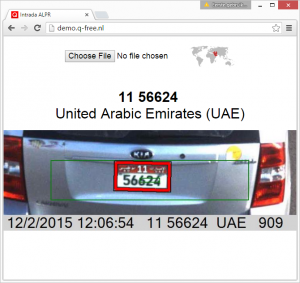 License plate recognition in the United Arabic Emirates distinguishes from other regions in the world through its huge variation in fonts, layouts, colouring and retro-reflective features. Still all variations may appear anywhere close and mixed given the extensive transit in the relatively small area. Intrada ALPR reads all variations and in operational mode even reports the Emirate of origin as well as the detected platestyle (private/commercial/taxi/etc).
From today, you can try out this ALPR yourself online via the red button link below (demo.q-free.nl). Please follow the following four steps.
Request a personal PIN code through the form on the bottom of this page.
Press the red "Access demo" button below.
Select the Arabic region on the map.
Upload your images.
When you are interested in our ALPR for the Middle East and you would like to meet up at Gulf Traffic next week, please contact us directly.
Request access
To request free access to the Intrada online demonstration, please fill in the details below. In response, you will receive a pin code which you can use to activate the demo now and in the future.
[contact-form-7 id="2433″ title="ALPR Request Demo Access"]