News
Q-Free at Gulf Traffic 2016- Finding new partners in the Middle East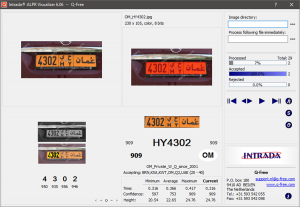 With the goal of meeting with the local offices of Q-Free's ALPR partners to learn about the developments in the market (need/suppliers) and get in contact with new partners, Marco Sinnema, Intrada Product Manager, stated, "We made a great impression to our visitors at the Gulf Traffic 2016 and I'm sure some of the contacts will materialize towards new opportunities, partners and/or future sales."
There are many traffic systems in the Arabic region that use Q-Free Intrada ALPR software integrated through our OEM partners. This encompasses different markets and applications such as law enforcement, tolling, security and access control. The new developments in Intrada ALPR for the UAE and surrounding areas were featured in our demo presented at the stand as well as the featured article, Q-Free Highlights Intrada's Middle East Credentials, in the Gulf Traffic daily news, issued by ITS International.
Our interactive demo featured Q-Free's capabilities in reading GCC license plates that visitors could control themselves. Intrada ALPR has the ability to read license plates of all countries in the Gulf region, determining the 1) correct registration number, 2) country and/or emirate of origin, 3) plate style at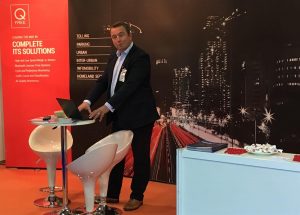 hand.
Local organizations were also particularly interested in our WIM (weigh in motion) systems. Mark Millman, Sales Manager from Q-Free UK, utilized one of our online operational WIM (weigh-in-motion) systems to demonstrate our capabilities for continuous measuring and reporting right at the stand. This system is being used in the Kingdom of Saudi Arabia, where Q-Free was commissioned to supply 20 high speed WIM systems for pre-selection enforcement.
With successful visibility throughout the show – not only Intrada ALPR itself but also implicitly through various products that contain Intrada ALPR as embedded component- Q-Free made a great impression at the Gulf Traffic 2016 exhibition and looks forward to next year's show.