News
ITS Australia Awards 2023: winners shine in 'period of great resurgence'
Awards reflect the 'outstanding productivity, innovation, and creativity' of ITS sector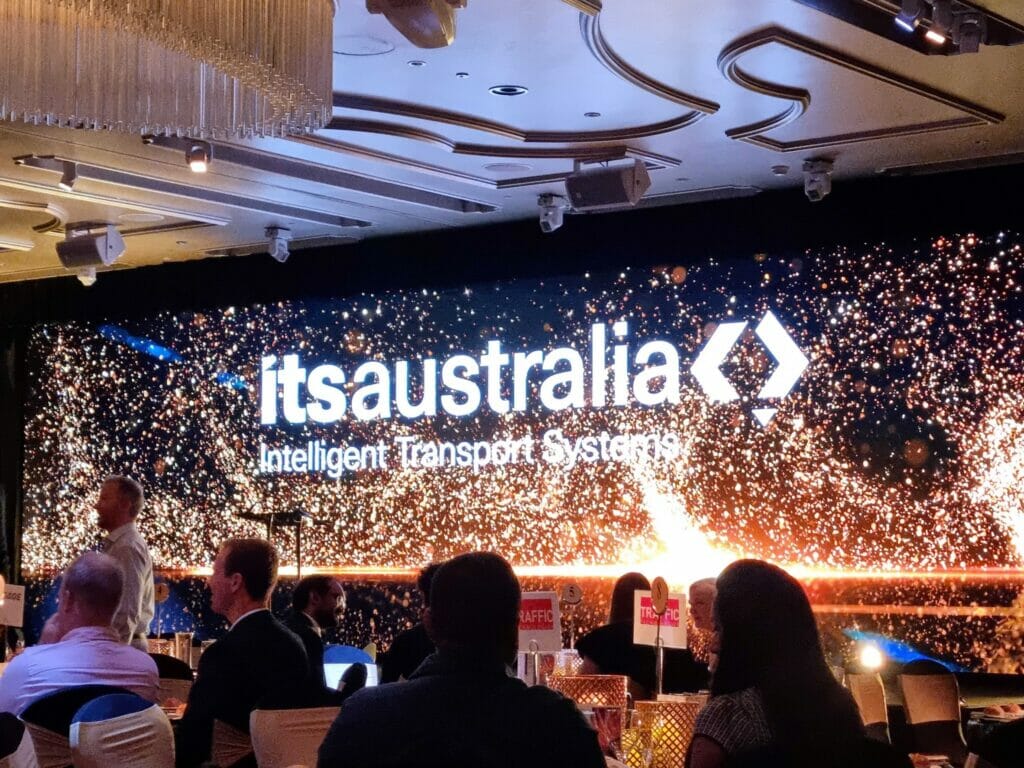 SkedGo, Q-Free Australia and Acusensus were among the winners at the 13th Annual ITS Australia Awards.
"2022 was a period of great resurgence for our industry," said Dean Zabrieszach, ITS Australia president. "The finalists and winners recognised by this year's ITS Australia Awards are representative of the outstanding productivity, innovation, and creativity shown by the entire industry over the past 12 months."
Who were the ITS Australia Awards winners?
Connected & Automated Vehicle
Q-Free Australia for Enabling Emergency Service V2V Communication for Safety Applications in Australia. In this project, C-ITS enabled emergency service vehicles to share awareness messages with surrounding vehicles, request priority at signalised intersections, and consume event notification and information messages.
"We share this award and recognition with our partners, Lexus Australia, Ambulance Victoria, and Aimes, whose collaboration was integral to achieving this success," said Silje Troseth, vice president APAC & general manager Australia, Q-Free.
Smart Transport Infrastructure
Sage Group for its Road Safety at School Zones project. Sage delivered over 675 electronic speed limit signs (ESLS) across Tasmania as part of an initiative funded by the Tasmanian Government. Fitted with a Sage Edge device, the signs capture real-time traffic patterns to inform Tasmania's Traffic Management Centre. Solar-powered variants operate in challenging weather conditions, assisting driver awareness of changed speed conditions and improving road safety.
Damian Hewitt, Sage's head of Smart Cities and future mobility, said: "This highly collaborative project with DSG, and HMI Technologies, illustrates the power of combining new and existing ITS technologies to build digitally connected communities. Working together, we've enabled a long-term solution where safety and future mobility lies at the forefront."
Intelligent Mobility
SkedGo for Adapting MaaS Technology to Create People-Centric Mobility Solutions. In this initiative, SkedGo adapted its MaaS technology to a diverse range of communities. This approach allows governments, transport authorities, businesses and nonprofits to launch highly tailored, localised solutions serving demographics such as commuters, employees, students, and underserved communities.
John Nuutinen, co-founder and CEO, SkedGo said: "We recognise that one size doesn't fit all and have purposefully designed our technology to be adaptable to a diverse range of specific needs. This means that governments, transport authorities, businesses, and nonprofits around the world can create highly customised and localised solutions that meet the needs of their communities, whether those be students, the elderly, employees, or people with disabilities."
Excellence in Research & Development
Acusensus Australia for its Heads-Up Solution, which is designed to give authorities an effective tool to address distraction and target illegal driver behaviour. The system captures high resolution, prosecutable evidence of individuals when they break road rules, it operates 24/7 in all weather conditions, working autonomously to capture photographic evidence of illegal driver behaviour.
Acusensus founder and MD Alexander Jannink said: "Our goal is to make the roads as safe as possible. Despite improved vehicle designs and road safety improvements, road fatalities have actually been increasing since 2013, largely attributed to distracted driving. Our technology is designed to prevent hundreds of thousands of deaths and road injuries worldwide."
Excellence in Transport Data
Transdev Australasia for its Network Solutions Analytics. Leveraging cloud computing and machine learning, this technology provides visibility of the entire customer journey by marrying operational data, ticketing information, weather data and other datasets to monitor past performance but also model future demand and schedule adherence. This visibility is made available at all points of the decision chain through dashboards tailored for specific audiences.
Transdev's head of network solutions Thibaud Robineau said: "With this tool we're able to combine much more data across the entire customer journey. We're able to review data on commuter behaviour and plan services accordingly, working closely with our government clients to achieve the best outcome. Data can be manipulated by operational staff and clients alike, allowing collaboration on network improvements and a firm understanding of the impact of any change through modelling."
Young Professional
A tie between Amirtha Raj from Arcadis and Nick Collins from The Victorian Department of Transport and Planning.
This article was written and published by ITS International on February 23, 2023.