PGS are a product of the worldwide development and deployment of Intelligent Transportation Systems (ITS) in cities. They can be used in conjunction with Advanced Transportation Management Systems (ATMS) and are major contributors to the safety, efficiency and improved environmental performance of ITS-equipped transportation networks.
Typically, up to a third of all urban congestion is caused by drivers looking for somewhere to park and PGS' objective is to reduce search times by providing information on where capacity is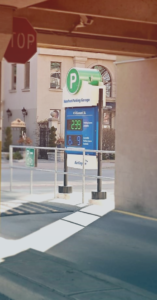 available.
To do this they use a combination of sensors in and around car parking facilities and information provision systems such as dynamic signage and the internet. Within parking facilities, overhead ultrasonic technology is used to determine individual space occupancy and availability. For on-street parking schemes, in-ground sensors using ultra-sideband radar are deployed. Sensors can be linked wirelessly and provide accurate coverage of very high numbers of individual spaces.
Q-Free can also provide a range of pre-booking and payment services, helping travelers to better plan their journeys by deciding when to travel and also how – used in conjunction with dynamic pricing and park-and-ride schemes, PGS can contribute to modal shift and emissions reductions.
LED-based variable message signs provide constantly updated statuses at key decision making points: on-street; at garage entrances; and on each parking level. Multi-colored LEDs integrated into the overhead sensors show whether individual spaces are free, occupied or reserved. Q-Free offers both hard-wired and wireless PGS, maximizing deployment flexibility.
Q-Free is one of the world's foremost suppliers of PGS. Reference sites around the world include cities, transportation organizations,  hospitals, entertainment centers, shopping centers, casinos, major sports venues, colleges, and large employer parking lots.
As well as communicating parking availability and precise location via on-street and in-facility displays, Q-Free's PGS can also push information out via the internet and smart device applications.
How Parking Guidance Works
Q-Free Parking Guidance Solution guide the flow of parkers by displaying actual counts, and their locations on strategically located space availability signs.  These signs are updated with count information in real-time from a wide range of sources:
Integration with existing parking management systems
Ultrasonic sensors
Induction loops and barrier contacts
Physical inventories
Q-Free can help manage every step of installation and integration to bring the benefits of Parking Guidance to your operation.
Parking Guidance Solution Benefits
Significant reduction in vehicle emissions eliminating the "cruising effect" of searching for a parking space
Optimization of parking spaces by providing real-time space inventory to the public
Monitor parking occupancy for Facility, Level, Zone, or Single Parking Space
Economic, Environmental and Customer-Friendly