The package
When you purchase Intrada® ALPR, you will receive the following items in the software delivery package.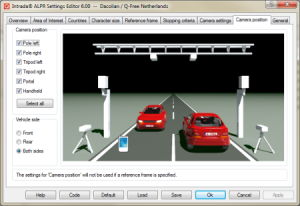 Libraries: The Intrada ALPR package contains the software libraries bought – that is, the bare Intrada module and for each supported country one or more country modules.
License: You will also receive a software license, unlocking the purchased functionality.
USB dongle: Hardware USB dongle to activate the license on a specific PC.
Visualizer: Before integrating Intrada ALPR within your own application, you can verify OCR performance and behaviour with regard to input images, using the Intrada ALPR Visualizer. This gives you insight into the various stages of the OCR process, from segmentation and binarization to the classification of the individual characters. It shows the registration number, the country of origin and the confidence level as returned by the Intrada ALPR library.

Intrada licenses are activated by a USB dongle.

Settings editor: Graphical editor of the Intrada ALPR settings file, with visual feedback of a parameter configuration on the input images at hand.

Manuals: You will receive the Intrada ALPR reference and user manuals.
Code samples: We provide you with code samples to give you a head start on integrating Intrada ALPR into your own application.
Terms and Conditions
The general terms and conditions from FENIT, as established at the District Court in The Hague on June 3rd 2003, identification number 60/2003, apply to all of our deliveries. You can download a free copy of the document here