Log in and select region to activate the Intrada® ALPR demo. For registration and usage, please check the corresponding sections on the bottom of this page.
Register
To request free access to the Intrada online demonstration, please fill in the details below. In response, you will receive a pin code which you can use to activate the demo now and in the future.
[contact-form-7 id="2433″ title="ALPR Request Demo Access"]
Usage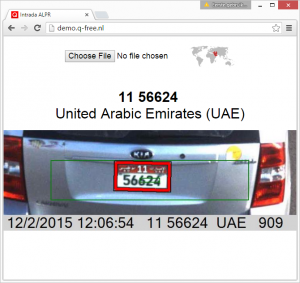 Processing your images
The usage of Intrada ALPR from the cloud takes the following steps.
Registration: When you have not already done before, you can register through the registration tab on the right. In response you will receive your free personal pin code which belongs to your e-mail address.
Activation: Second, go to the Demo tab and activate the demonstration with your e-mail address and personal pin code as received.
Select image: Press the browse button to select an image file from your computer. After selection, the file will automatically be uploaded and processed for ALPR.
Quality: For optimal recognition, please take into account the acquisition considerations as described on the support page.
Result: As a result you will receive the ALPR result as described below.
ALPR Results
As a result of the ALPR processing step you will receive the following information.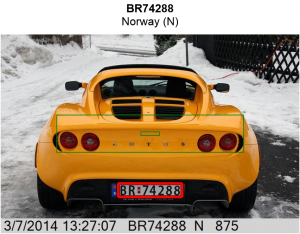 ALPR answer: The registration number found in the image, where available together with the country of origin.
Plate location: The location in the image where the license plate was found is indicated by a red rectangle.
Plate size: The green rectangles indicate the minimum and maximum size of plates that will be processed. Licenses plates with size outside of this range will not be read.
In-image details: On the bottom of the image you will see some additional processing information like the time and confidence in the answer.
Disclaimer
When using the demonstration, please also take into consideration the following:
Recognition: With this online demonstration you are using the standard Intrada ALPR modules. When you are using Intrada ALPR for your own products and projects you can expect much more accuracy, as for your application we can and will take into consideration your camera, position, purpose and environment characteristics.
Throughput: The online ALPR engine cannot benefit from any a priori knowledge on the image content. That, together with the communication required between your computer and the cloud, could make you experience longer processing times than typical in a real-life situation.