News
Check out our newly improved Q-Free website and Q-City!
Q-Free website is updated with an overall cleaner look and feel. With a newly designed menu that provides effortless navigation through our ITS portfolio, finding our products and solutions for your ITS needs has never been more easy.
In addition to the website enhancements, a new version of Q-City, our comprehensive and interactive portfolio of Intelligent Transport Systems (ITS), is now available for download and can be found in the Apple App Store and the Play Store.
Through Q-City, users can see how intelligent transport solutions help raise revenues for infrastructure construction and upkeep, reduce congestion and pollution, and maintain quality of life.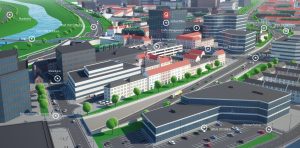 This new version of Q-City includes:
Bicycle Priority
Intrada Insight
C-ITS – Intersection
Q-Free ParQ
Truck Parking
Parking Outdoor Sensor
Out with the old and in with the new! Before downloading the updated version, delete your old Q-City app. Now that Q-City can be downloaded from the Apple Store and Play Store, future updates will be even easier to install, keeping your Q-City a state-of-the-art ITS tool.